Welcome to your affiliate newsletter!
What's New?
The brand new LELO Smart Wands are now at Lovehoney! Grab the luxury wand vibrator you fancy (Black or Purple) and get FREE Durex Play O Orgasm Gel worth £14.99 in this very special launch offer!
Check out more new sex toys here
Check out all new lingerie here
Offers
You can get your copy of 50 Shades of Grey from Lovehoney for only £7.99 with a FREE Powerful Pocket Vibrator
Book 2 - 50 Shades Darker comes with a FREE Bondage Boutique Soft Leather Blindfold
Book 3 - 50 Shades Freed comes with a FREE Lady Lust Finger Mini Vibrator
***
3 for 2 on Pasante Lubes and Condoms – Mix & Match this May!
Buy 2 Lovehoney Bionic Bullets for £20

Lovehoney Satisfy Me Dildo with free lube

Save 10% on prostate stimulators – Aneros Toys in May!


Save £10 on Fleshlight Inserts!

Free Lovehoney Powerful Pocket Rocket Vibe when you buy 2 items of sexy lingerie from Seven 'til Midnight

Get a free Love Bear Bullet Vibrator worth £14.99 when you spend just £30 on Rene Rofe lingerie

Buy any two items of Coquette lingerie and get a FREE Cupid's Rabbit Bullet Vibe worth £9.99

Free Tease Me Satin Wrist Restraints worth £14.99 when you spend £30 on Livia Corsetti lingerie

Get a free Vibrating Finger Ring when you spend £15 on Durex condoms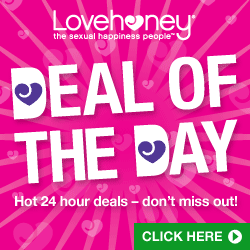 Deal of the Day! – a new amazing daily offer – yes every day at Lovehoney.
What is it today? Click here to find out!
What's New?
Tantus Max 02 Silicone Dildo Black - delivering 7 insertable inches of pure, luxurious pleasure, with added balls £46.95
Tantus Luke 02 Silicone Dildo Cream - The one inch smaller brother of Max – in a simple cream colour £39.95
Tantus T-Rex Silicone Dildo Purple - thicker girth for monster pleasure as well as harness compatible – with BALLS £54.95
Tantus Anaconda Silicone Dildo - the famous Tantus dildo with a handle! Available in Strawberry Pink or Black £46.95
Tantus Vibrating Panty Play - slip into your knickers and get wet, horny and orgasmic! £32.95
Tantus Realdoe Slim Silicone Vibrating Dildo – the strapless strap-on got better! £76.95
Clone A Willy is now in Jet Black! The wildly popular way to give them the best present of all – YOU! Clone yourself in stallion black – plus, it's a vibrator! Only £24.95
Doc Johnson have released (into the wild!) some hefty butt plugs. Try out the Platinum Big range for some Big, Blue, Butt loving. Get your anal reaming on! From £24.95
Boys: Got your Fleshlight VStroker yet?
Check out more new sex toys here
Offers
Nassty Collection G Spot Arouser RRP £26.49 now only £10 this week!
Platinum Charisma Zia Vibrator RRP £28.99 now only £15!
The Vibe Therapy Exhilaration Rabbit Vibrator is well over half price this week at only £30!
RRP £71.99
KY Yours & Mine Couples Lubricants – RRP £27.99 now only £15!
Freezer Pleaser Vibrating Bullet Massager - RRP £29.99 now only £15 !
Teddi's Tickler Egg - RRP £20.99 now only £10 !

Honour Clothing are hosting a huge Spring Sale with up to 70% off!
Honour's colossal Spring Sale is host to over 300 new items with up to a whopping 70% off. The Honour Spring Sale features a range of quality clothing items from our PVC, Latex and Leather ranges and more!
As well as a selection of our finest sex toys and for the kinky in you some of our most restraining of Bondage equipment is also up for grabs.

Save over £12 on this bumper bundle including Desi Love Balls, an RO-80mm Bullet and some Durex Play Feel Lube – only £19.99 altogether!
Sexshop 365 will beat any price on the same item if you find it elsewhere, and will even give you free lubricant worth £4!
Get 5% off your first order with Sexshop 365 with code 5OFFMAY
Find the Sexshop 365 Deal of the Day right here 
Find all Sexshop 365 60% off Sale items right here
Don't forget that most of these sex toys and sexy offers have FREE UK delivery and returns.
I hope you've enjoyed this affiliate newsletter, and wish you the best of luck with all your conversions!
There will be a brand new affiliate newsletter posted next Friday.
Until then,
Cara Sutra
xxx
Paid on Results Affiliates *note* 
When re-posting this on your sites and blogs, simply use notepad on your computer.
1) Copy the HTML to your notepad then click Edit>Replace
2) In Find What put 33264
3) In Replace With put your own affiliate ID number
4) Click Replace All
5) Click the X to get out of that little box.
6) Select all the HTML again. Right click, copy to clipboard. (All the links will now be YOUR affiliate links.)
7) Paste this HTML as your post, using the source or HTML button on your site, or however you enter HTML to be translated to a post.